GOALS FOR OUR COMMUNITY
Invest in and pursue green space, vibrant business districts, pedestrian / bike infrastructure +

traffic calming

in Jenkintown & Abington to increase quality of life and mobility options for our residents.
GREEN SPACE
Safely accessible green space and equitable, open access for children and adults.
MOBILITY
Investment in pedestrian and bicycle infrastructure to increase mobility options for our citizens.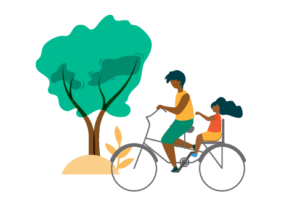 Traffic calming on 611 in Abington + Jenkintown to improve the walkability of our area.
New sidewalks on high-risk roads currently without them
Update the Abington Bicycle Master Plan
About our group
The Jenkintown + Abington Neighbors Association organizes to support the vibrance of our area through walkable, safe streets and mobility for our citizens.
We began as a partnership between concerned neighbors in the areas surrounding the borders of Abington + Jenkintown who see the need for cross-collaboration between jurisdictions.